Download Srinivas College of Physiotherapy Fee Structure 2022
About The College
Srinivas College of Physiotherapy
---
Srinivas college of physiotherapy was founded in the year 1993 functioning with the aegis of Sri. CA. A Raghavendra Rao, Chancellor, Srinivas University and President, A. Shama Rao foundation, Mangaluru. From the year 2017, the college has become a constituent of Srinivas University.
Srinivas college of physiotherapy is located in scenic campus, situated at Pandeshwar, Mangaluru with a good connectivity with bus stations and railway stations. It provides excellent academic and clinical facilities and also has an excellent infrastructure for academics, sports and other extracurricular activities. Students from different parts of the country and regions who enroll in the college make it truly inclusive and multi-cultural. The college also promotes research in relevant fields of Physical Therapy and offers Ph.D. programme in accordance with the regulations of the University.
It is the first college which has designed the course curriculum to meet all overseas credentials. The college also has a wide network of alumni's spread across the world in various managerial responsibilities
Srinivas University
---
Srinivas University is a UGC Approved private university located in Mukka, Mangalore, Karnataka.
Established in 2015 by the A Shama Rao Foundation through the Srinivas University Act, 2013. A part of the Srinivas Group of Institutions (A private Charitable Trust founded in 1988 by an Eminent Chartered Accountant A Raghavendra Rao).
Srinivas Group
A Shama Rao Foundation has started many professional colleges in Mangalore which include Srinivas Institute of Medical Sciences and Research Center, Srinivas Institute of Dental Sciences, Srinivas Institute of Technology, Srinivas Pharmacy College, Srinivas Institute of Nursing Sciences, A Shama Rao Nursing School, Srinivas Integrated Campus, Srinivas College of Hotel Management, Vijayalakshmi Institute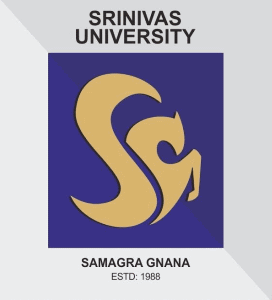 of Hospitality Sciences, Srinivas First Grade College, Srinivas School of Engineering, Srinivas Institute of Management Studies, Srinivas College of Physiotherapy, Srinivas School of Business, Srinivas School of Management, Srinivas College of Education, Srinivas Institute of Social Work, and a university called Srinivas university in Mangalore Karnataka.
 Admission 2022-23
The students who are seeking admission  for distinct programs offering the requisite steps as provided below:
Firstly, the specific application form for the program should collect from the website of the Enrollacademy or University.
Secondly, the submission of duly filled forms for application with essential and mandatory documents. Duly signed with the application, further applications for the fees either in demand/draft or cash to the Office of admission.
After that, collect the admission confirmation letter and pay the remaining amount while starting college.
Classrooms
---
IT-enabled classrooms are the center of attention. In addition, Multiple conference halls, meeting halls, auditoriums, and the Open-Air theatre facilitate the conduct of all the events in the University.
Sports
---
The indoor and outdoor sports and games facilities will help the students to meet the needs of recreational and fitness
College Library
---
The library is in the modern world of information explosion. An effective library and information service is a basic necessity of every educational institution. This library is growing day to day with the inception of new courses of Aviation Management, Logistic & Supply Chain Management. This library is to support the entire teaching, research, and extension activities under this university campus at Pandeshwar.
Libraries are universally recognized as important social institutions for the diffusion of knowledge and information. No community, institution, or organization is considered complete without the support of a library and its services.
The gradual spread of the concept of democracy. Such as extension or education, growth of research activities, rapid industrialization, continuous increase in production of recorded knowledge. Similarly both in print and non-print media, and advancement in information transfer, computer, and communication technologies have contributed to the growth of libraries and information centers. As well as to the development of user-oriented services.
Hostel Facility in Srinivas College of Physiotherapy
---
Besides the college providing a comfortable and safe environment to its students is the University's topmost priority.
Moreover, in-campus departmental stores, snack shops, book stores,s, and other such amenities ensure that students have all their basic requirements.
Placements 
---
Srinivas University, Mangalore has an active placement cell. During  Placements , a total of 44 companies made the placement offers.
As a result , total of 89 students got offers from the companies.
For instance top recruiters like YesPeal Technologies Pvt. Ltd, Rinex Technologies, Blue Danio Softech Solutions, Chegg, etc made the placements offers.
Loan/ Scholarship Provisions
---
Srinivas university  provides scholarships and loans to students. The institution is providing scholarships to students who are having got good marks.
Accordingly, the College is providing loan facilities for some courses. Similarly, students belonging to  minority group will also get a fee concession.
The scholarships are provided on the basis of numerous parameters like academics, sports, punctuality, etc.
Faculty
---
The programs and experiences within campus facilities give students an opportunity to practice these relationships and roles in preparation for a post-college life.
To illustrate our businesses, communities, and neighborhoods need highly skilled leadership and participation. The faculties are actually good with a very friendly in nature and very well known in the subjects they handle.
Above all, the faculties are with high industrial knowledge and we'll experience in the field of teaching.
Srinivas University  Approvals & Certifications
---
Download  UGC Approval Click Here
 Fees Structure Srinivas College of Physiotherapy
---
Download The fees structure from Below
Book Admission In Srinivas College of Physiotherapy