A low student-teacher ratio allows for individual attention and overall development.
Meredian College Mangalore offers 8 courses across 5 streams namely Commerce and Banking, Management, IT, Science, Arts, and across 8 degrees like BSc, BCA, BBM, B.Com, MSW.
Affiliated to Mangalore University Recognized by the Government of Karnataka
Download Meredian College Mangalore Fee Structure 2022
About The College
Meredian College Mangalore
---
Meredian College is a Private College situated in Ullal, Mangalore, Karnataka , established in 1970. Meridian college was accredited by the Govt of Karnataka and  affiliated with Mangalore Unive
College  offers 8 courses across 5 streams namely Commerce and Banking, Management, IT, Science, Arts, and across 8 degrees like BSc, BCA, BBM, B.Com, MSW, BHM, BHS
Apart from other colleges, Meredian college allows a low student-teacher to give individual attention and overall development. Above all College offers the distinct advantage of being large enough to provide the necessary staff and facilities.
Campus Life in Meredian College
---
Among the finest Colleges in the city, Meredian College Mangalore in Ullal, Mangalore was known for offering excellent Campus Life.
Meredian College Mangalore is a new generation college with a strong foundation in Indian ethos with absolute dedication and determination of the management and faculty. In addition, imparting value education has awakened the competitive nature among the students to engender brilliant academic ranking.
The clinic is located centrally in Ullal, a prominent locality in the city. It stands close to Someshwara Road in the same way it helps people to consult the doctor easily.
In other words, Meredian College epitomizes the unwavering visionary zeal and mission objectives of Jyothis India Education Trust, Mangalore.
Conversely, in Meredian there is a strong foundation in the field of management, information science, social work, hospitality management.
As a result, Meridian develops excellent graduates able to meet global challenges in the liberalized world. Accordingly, Meredian realizes that soft skills and case study techniques are essential for a successful manager. Hence it is compulsory for all students.
Summer placement ensures industry–institutional bond and field-based advanced skills training.
About Meredian College Ullal, Mangalore
---
The college was located in Ullal, Mangalore, the district headquarter, and "the Gateway of Karnataka".  A scenic coastal city with beautiful beaches and an international port with easy accessibility by air, road, rail, and sea.
In addition, Meridian college provides state-of-the-art computer facilities to all students to ensure that they are computer literate.
Multicultural environment. It has students on its rolls. While the teaching facilities include the computing center and the library with a large collection of books.
Meredian College was established by Meredian Education Trust in 1970. The college completed a decade of service in the field of higher education.
To widen the wings and to achieve new heights, the management of the college was handed over to Jyothis India Education Trust from 2005.
Under the able guidance of renowned educationists and social workers, Dr. Joby E. C.
The members of the new management are from diverse backgrounds such as medicine, education, social work, administration, law, business management, etc. Meridian college Mangalore contact details are available on this website
Affiliations of Meredian College Mangalore
---
Affiliated to Mangalore University and Recognized by the Government of Karnataka
About International Students
Studying overseas was a challenging and major decision. It surely offers great opportunities in terms of a professional career with international links and friendships, and broader education.
Meredian college has the advantage of being in a large city with a close and friendly environment. Even so, the campus was fostered not only between students. But also in the teaching relationship.
Moreover, the teaching staffs are well experienced in teaching international students. Because they are very attuned to students' needs and aspirations.
To help international students adjust to living in Mangalore, Meredian College Mangalore provides a range of services for them. Reception service at Mangalore airport and escorted transfer to accommodation.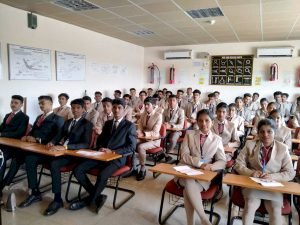 Besides the Assistance with visa and accommodation arrangements.
Comprehensive orientation for all new students to introduce them to the college, its facilities, and other international students.
Besides Meridian college provides student counselors to assist with welfare, financial and personal problems.
In other words, Meredian College has a powerful foundation within the field of management, scientific discipline, welfare work, welcome management, etc.
Apart from other colleges, the goal at Meridian was to develop excellent graduates ready to meet international challenges within the liberalized world.
Facilities Provided By Meredian College Mangalore
---
Class Room:   
Coming to the classroom College has Good classrooms with a projector in them. &  a central library where we get subject-related textbooks, journals, magazines, textbooks to do researches, newspapers, and we can also download books in our library. We also free Wi-Fi connection in our library
Hostel:
Separate hostels and PG Facilities for boys and girls are available. The girls' hostel is managed by Rev. Sisters and the Boys' hostels by the supervision of Rev. Fathers. Transportation facilities are available.
Scholarships:
Sports and Merit, Sports and Management scholarships are also available in Meredian College
Library:
The institution has a spacious library with a well-furnished reading room. In conclusion with Adequate books, journals, periodicals, and qualified staff are provided. The students and the teaching staff can have access to this library from 9.00 a.m. to 5.00 p.m.
Extra-Curricular Activities:
the students are encouraged to participate in several activities outside the curriculum in Meredian College. For this reason,  Ample opportunities are provided for participation in sports, games, literary, fine arts, cultural, and other co-curricular activities.
The various associations like Literary, Fine Arts, Sports, Management and Social Service Associations set up for this purpose take care of these activities.
Student Counselling:
To help solve the problems, academic or otherwise of students and to give them proper and timely advice counseling also available.
For this reason, students make the best use of this facility in Meredian College.
Moreover, they are also free to discuss their problems with any of the teachers and the Principal as well.
Education Loan Facility
---
All courses offered in Meredian College Mangalore are approved and recognized by Mangalore University, UGC, and the Govt of Karnataka.
Any student joining Meredian College, They are eligible for a bank loan as per the rules of the Govt.
Meredian College for Bachelor Programs
---
Bachelor of Computer Application
BCA Stands for the Bachelor in Computer Application a 3-year graduation degree course generally for those students who want to learn Computer languages and after that who wants to join Software Companies.
If you are an average student and you are interested to do something in software engineering, development, or research, but unable to achieve it through B. Tech. So BCA will be another way to get the same goal which one will get through B.Tech(CS)
Eligibility – Any student who has passed the 12th class minimum of 55% marks in their 12th class can join the BCA course.
Top Recruiting Companies – Some of the top recruiters for BCA graduates in Meridian College Mangalore:
Wipro, NIIT, Infosys, TCS, HCL.
Add on courses
AVIATION & HOSPITALITY MGT
ARTIFICIAL INTELLIGENCE & MACHINE LEARNING
DATA ANALYSIS, CLOUD  COMPUTING & CYBER SECURITY
ETHICAL HACKING
B Sc Hospitality Science
Bachelor of Science in Hospitality Science  –  3-year full-time graduation course( divided into 6 semesters of six months each)
This hospitality management degree in Meredian College ,offer to eligible students the knowledge of management of food, beverage, and accommodation along with general management.
Accordingly, it will help the candidates to get the technical and operational perspectives required for functioning in the hospitality and services sector.
Eligibility –  Higher Secondary Certificate (10+2) qualification with a minimum of 50% marks in any stream.
Job Positions – Hospitality Executive, Catering Officer, Manager & Supervisor, Cabin Crew Hostess/Host, Field Supervisor, Marketing Manager, Catering Supervisor & Assistant, Manager and/or Supervisor, etc.
Top Recruiting Companies – Tourism Industry, Hotels/Restaurants, Airlines, Cruise Ships, Tourism Industry, Retail Industry, Colleges/Universities, etc.
Bachelor of Commerce in Meredian College
A Bachelor of commerce is an undergraduate degree in commerce. A three-year-long undergraduate course that evenly distributed into 6 half –yearly semesters.
The 3-year B.com degree program aims to facilitate a deep understanding of how business organizations work.
It develops knowledge and skills in core B.com subjects such as accounting, marketing, taxation, human resource.B. Com presents a lot of career opportunities to the candidates.
Banks and Financial organizations/companies are the major employers of these candidates.
A high number of jobs are available for B.com graduates in industries such as information technology, telecommunication, BPO, Manufacturing.
Eligibility – Higher secondary (10+2) from a recognized board of education with English and math as core subjects.
Add on course
  B.COM WITH PORT MANAGEMENT, AVIATION & HOSPITALITY MANAGEMENT,  TRAVEL & TOURISM MANAGEMENT
Bachelor of Business Administration 
BBA (Bachelor of Business Administration) is one of the most sought bachelor degree programs after 12th. It includes the complete knowledge of leadership and management. BBA course offers a three-year bachelor's degree program.
Eligibility – For admissions into BBA courses, students need to clear the 10+2 or equivalent examination from any recognized board or school.
Bachelor of Science – Nursing
BSc in Nursing is a 4-year undergraduate course that focuses on providing detailed Nursing to medical aspirants. Since Admission to BSc Nursing provided through NEET an initiation by the Indian Government or several other university-level entrance exams.
Eligibility – Candidates who have completed their 10+2 exams from a recognized board and are from the Science stream with Physics, Chemistry, and Biology as their compulsory subjects are eligible to apply.
Diploma Programs in Meredian College Mangalore
---
GNM Diploma in Nursing
GNM referred to as General Nursing and Midwifery it deals with the education of nurses in general health care, Nursing, and midwifery. Meredian College Provides Nursing as a Three and a half-year diploma course. Undoutfully that includes six months of mandatory internship.
GNM course offers a stepping stone towards making a career in the Nursing field. Consequently, the Graduates with GNM diplomas can start their careers by working with government and private hospitals and clinics.
Eligibility – Should have passed class 12 with English and must have secured a minimum of 40 percent in aggregate in the qualifying examination and English separately from any recognized board State Open School recognized
Students who pursue a State Open School recognized by the State Government and National Institute of Open School (NIOS) recognized by Central Government are eligible.
However, candidates with a Science stream preferred the most.
Diploma in Hotel Management
Diploma in Hotel Management course that focuses on the study of management techniques related to catering and hotel administration.
In contrast, Meredian College Provides learners with a broad understanding of the operative aspects of the international hotel industry. Similarly, knowledge of the basic management principles is the aim of a Diploma in Hotel Management.
Similarly, the hotel administration, accounts, marketing, housekeeping, front office or front of the house, food and beverage management, catering, and maintenance is grip in Hotel management.
Eligibility –  Higher Secondary Certificate (10+2) /SSLC  qualification with a minimum of 50% marks in any stream.
Masters Programs In Meredian College
---
Master of Social Work
Master in Social Work offers a 2-year specialized postgraduate course. It consists of macro and micro aspects of professional social work practices in communities, hospitals, schools, and other social services fields.
The core subjects of the MSW syllabus namely Human Growth and Development, Ideology and Ethics of Social Work, Poverty Reduction, Micro Finance, and Micro Enterprises, etc.
Besides, the main aim of the course was to empower the students with the professional skills required for undertaking social work. Meridian college Provides the best education in the field of MSW by dividing the semesters into 4 parts.
Eligibility – B.A./ B.Sc./B.Com./B.S.W./B.B.M./B.A Law degree with a minimum of  45% mark in aggregate.
Master of Commerce
M Com was a postgraduate Master's Degree that specializes in commerce, accounting, management, and economics-related subjects, just like the Bachelor of Commerce. As well as the Master of Commerce usually comprises 2 years of regular study with regular attendance (not less than 75%).
The program in Meredian College generally focused on different disciplines such as accounting, actuarial science, business management, corporate governance, human resource management, economics, statistics, finance, and marketing or supply chain management.
Eligibility – B.A./ B.Sc./B.Com./B.S.W./B.B.M./B.A Law degree with a minimum of  45% mark in aggregate.
Book Admission In Meredian College Mangalore